The Cougar Ultimate Log Carrier
The Easy Way to Get Wood!

Make hauling firewood to fireplace a snap, with our convenient, durable firewood tote.
No more – multiple trips, fumbling with logs balanced in your arms.
No more – wood sap, dirt and splinters on your clothes.
No more – wood chips, sawdust and dirt dropped all over the house.
How often do you struggle carrying firewood by hand in winter? Dropping logs, staining clothes and leaving a mess on the floor. Don't let carrying logs be a chore for you any longer! Our authentic 'enclosed-end' designed log tote prevents logs from falling out and keeps dirt off your clothes and floor!
Carry firewood from your log store to fireplace the smart way, with this extra large size, premium quality wood tote that will look fabulous by your fireplace or folds flat for easy storage.
With its large carrying capacity and robust, quality construction, the Cougar Ultimate Log Carrier features waterproof 1200D canvas with extra-wide reinforced nylon webbing straps that go all the way round the carrier. This supports the weight evenly, allowing you to comfortably carry more logs in one trip, with no mess and will provide you with years of reliable use.
Why buy the Cougar Ultimate Log Carrier?
Our best-selling firewood tote is made from extra heavy-duty waterproof canvas throughout. Most budget carriers use cheaper 12 oz canvas that is less robust and won't last nearly as long.
Our ultimate wood tote features extra-wide 2" reinforced nylon support webbing that goes right round the bag, plus an additional lateral support strip for extra strength. Most budget carriers just use standard 1.5" wide webbing and many don't even go round the carrier, creating strain points that will eventually tear. Our wider 2" webbing handles are also more comfortable on your hands when carrying a heavy load of logs.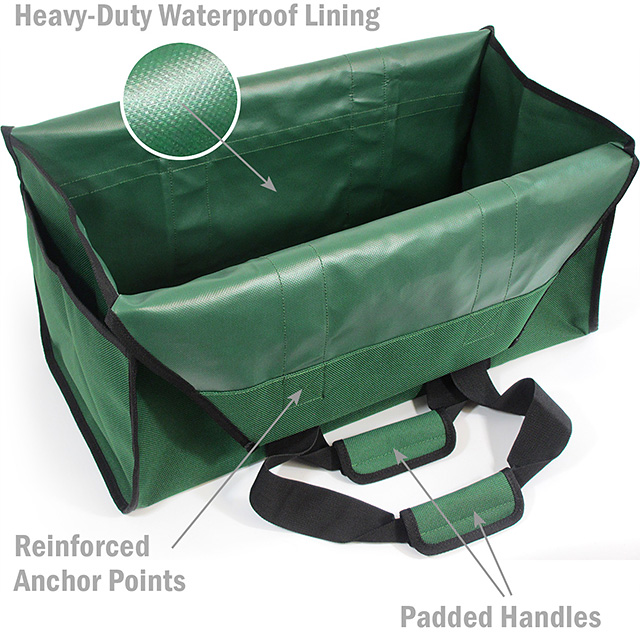 Our firewood carrier also features a double stitched external trim around all seams that not only looks smart, but protects the seam from day to day wear. Plus, we have incorporated a wide double hem at the top of the tote to support the main stress points on the handles. This not only looks much better than the poorly finished reinforcement 'patches' often seen on budget carriers, but is a much more robust solution as it distributes the force over a wider area.
Features a unique, fully padded, 2-handle design to make hauling firewood a snap.
Made from genuine, heavy duty, 1200D waterproof canvas that will last for years.
Features extra-wide 2" reinforced nylon support webbing, right round the tote.
Smart external trim protects the seams and a wide top hem supports the handles.
We are so confident you will love your Cougar Ultimate Log Carrier, that we are happy to provide a LIFETIME WARRANTY against defects in material and workmanship.
Plus, when you click the buy button today, we will even send you a FREE guide to firewood preparation, stacking and storage!